Welcome to the "Official" website of the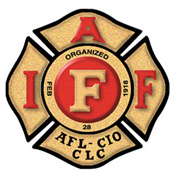 Wilmington Firefighter's Association - Local 1590.
We are the local affiliate of the International Association of Firefighters, representing 172 members currently employed by the City of Wilmington Fire Department, as well as 141 "active" retirees.
The Wilmington Fire Department is Delaware's first career department.
The members of the Wilmington Firefighter's Association protect the state's largest city; a bedroom community of 72,000 citizens within a 16 square mile area. During workday hours, the population swells in excess of 150,000 persons.
Wilmington is comprised of everything from single-family dwellings, row homes, and heavy industry to high-rise office and residential buildings.
Our members cover seven (7) fire stations around the clock to provide fire suppression, emergency medical service, vehicular, water, and specialized search & rescue services, in addition to fire prevention, fire investigation, and fire education programs.
The department staffs six(6) engines and two (2) ladders, working a four(4) platoon rotational shift of twenty-four (24) hours on duty and seventy-two (72) hours off.

---